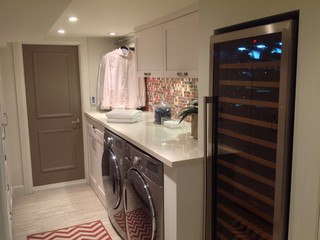 Last week in our blog we shared popular ideas for a pet washing station in the laundry room as well as built-in drying racks.  The laundry room above nails many desired elements — folding table, hanging rod, plenty of storage. But what pushes it above and beyond is the vertical wine refrigerator. (For responsible drinkers only…especially around those whites!)
Many homeowners seem to be embracing dark, moody colors in their laundry spaces. The rich, slate-colored custom cabinets and 1-inch-square mosaic tiles seen above might give a clue as to why: They give this laundry room sophisticated appeal. Meanwhile, the double-stacked 27-inch-wide washer and dryer units could make any family envious.
The open space and granite countertops make this space above easy to like. But the gift-wrapping peninsula turns it into it a room anyone can fall in love with.
Please let us know what your thoughts are on these unique laundry room ideas!