Since 1994, we've provided homeowners and commercial clients with creative design excellence and superior workmanship. We create new living and work spaces tailored to suit our client's lifestyle and aesthetic values.
We only use experienced trade subcontractors and suppliers who adhere to our professional standards of quality service and craftsmanship.
We provide complete customer service and project management throughout the construction process assuring that your project will be completed on time and on budget.
We recognize that building solid trust is as vital as the building process.
We believe that construction is not primarily about materials, but is about listening, partnering, understanding, and exceeding homeowner's expectations.
When you work with us, we are dedicated to provide you with the highest standards of quality and value in your home.
We are available throughout the building process and long after the delivery. You can count on us!
We care about our clients, we understand that your home is your most valued asset and we take e extra care in respecting your home, your yard, your furnishings and of course, your pets.
We strive to be the best remodeling company along the Grand Strand of Myrtle Beach.
Awards
Houzz 500 Saves Award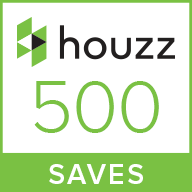 The Houzz community has saved Re-Builders'  photos of our work to their ideabooks 500 or more times!
Best of Houzz 2016 for Service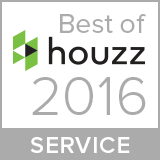 Re-Builders is rated at the highest level for client satisfaction by the Houzz community.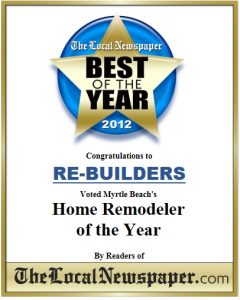 Home Remodeler of the Year – Presented by TheLocalNewspaper.com
Recipient of the 2012 HGHB Professional Remoders Council Home for Life Award for Bathroom Remodel
Homes for Life-Bathroom Remodel Award
Top Dog Award 2010 – Presented by the HGHBA
Whole Kitchen Renovation
Project: Hackler in Myrtle Beach, SC
Total kitchen renovation to open the flow pattern into living space for an expanding family.
Top Dog Award 2010 – Presented by the HGHBA
Best Bathroom Renovation
Project: Berry in Myrtle Beach, SC
Renovation of closet, main vanity area and shower/commode room. Included cabinets, extra storage, tile, fixtures and lighting.
Top Dog Award 2009 – Presented by the HGHBA
Whole House Renovation
Project: Hewitt in Myrtle Beach, SC
Converting 1980s brick ranch to a stucco Mediterranean design
Top Dog Award 2009 – Presented by the HGHBA
Best Remodeling Project Over $100,000
Project: Burch in Myrtle Beach, SC
Total kitchen and sunroom addition